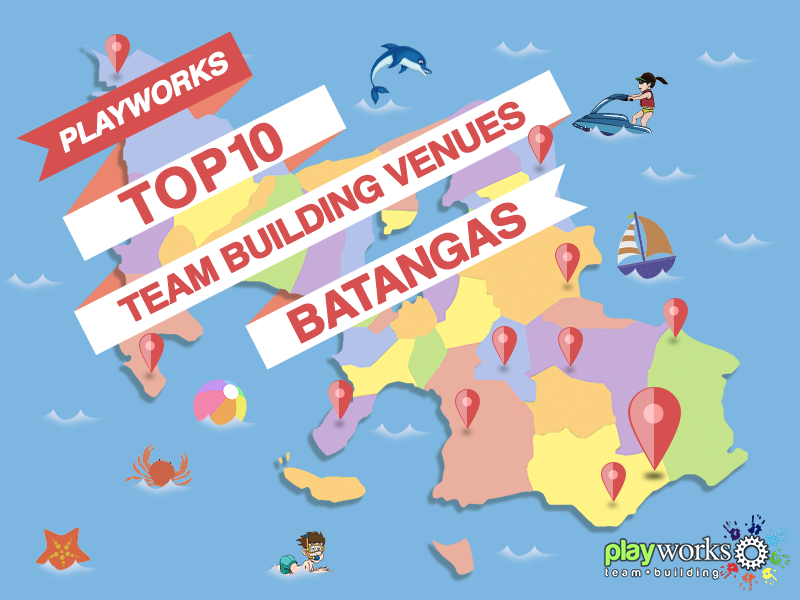 Playworks' Approved Team Building Venues in Batangas!
When it comes to choosing a location for a company summer outing or team building, the expansive province of Batangas with its many beautiful beach and mountain resorts are always a favorite of Playworks' clients.  Its accessibility (only a two- to four-hour drive from Metro Manila) and its variety in terrain (white sand beaches to scenic mountain tops) allow for an abundance of choices for a wide range of preferences, group sizes, and budgets.  If you are looking to find the perfect team building spot in Batangas, here are Playwork's top choices for team building venues in the province...
HIDDEN VALLEY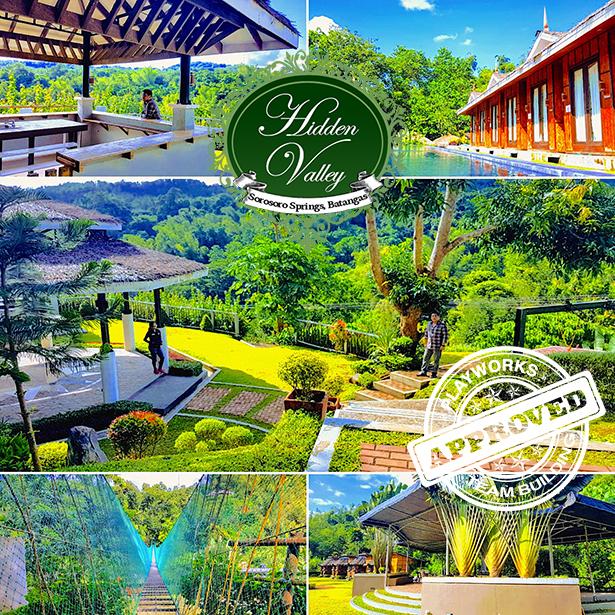 Tucked away in the mountains near Batangas City, Hidden Valley is a great choice for team building on a budget; but that doesn't mean it compromises on quality.  Just 2 hours from Metro Manila, getting there is a breeze since most of the ride is on the main highways (SLEX to STAR Tollway).
Set in an actual valley and surrounded by mountains, you really feel you have left the concrete and smog of the city behind!  If budget is really tight, you can choose their standard accommodations, all of which have air conditioning and access to their 5 natural spring pools.  Standard accommodations vary dependent on availability of their native chalets, standard family rooms, and dorm-style rooms.  
If you want to impress the bosses, there are also executive Mountain Lodges with a private infinity pool located at their scenic Griffin Point.  The exclusive area also has its own private pavilion and grilling area overlooking the Valley and is only accessible via a hanging bridge (quite an exhilarating challenge the first time you go across)!
For thrill-seekers looking for even more of a challenge, they also offer a Zipline with a parachute as well as an Airbike to cross the valley in style.  Other facilities, such as a huge white tent for events, an even bigger covered stage, the aforementioned natural spring pools, and large fields of green allow for large team building groups to conduct their activities without feeling cramped.
Facilities: 

Accommodations: 

Food: 

La Luz Beach Resort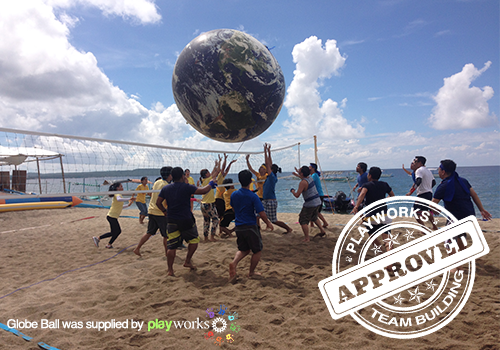 Located on the border of San Juan and Laiya, La Luz is a great choice for companies looking for a beautiful beach team building setting on the white sands of Batangas while staying within a 3-hour radius from Metro Manila.  Its owners continue to develop the 10-year old resort and add facilities to its large property and wide 3 kilometer beachfront.  
Set in a rustic atmosphere, the resort boasts unique physical activities, which Playworks can incorporate into our team building programs there; this includes a unique ocean-based obstacle course (yes, that's right, their obstacle course is located in the ocean!), beach soccer and volleyball with oversized balls, fat-tire beach biking, a secluded cove for private parties and functions, as well as a yacht which you can rent!
The great thing about doing beach activities here is that La Luz's beach is lined up and down with shades (both man-made and natural) and resting cabanas, so team building participants have refuge from the hot sun while doing their activities.
Food and Beverage-wise, we've really enjoyed the variety and quality of food every time we do a team building at La Luz, and there is also a quaint beach bar that reminds us of the laid back Boracay days before it became over-commercialized.
Facilities: 

Accommodations: 

Food: 

For more information on Team Building in Batangas, go to:  www.batangasteambuilding.com

(G)

0915-477-7529

, (S)

0998-997-7529
---
Club Balai Isabel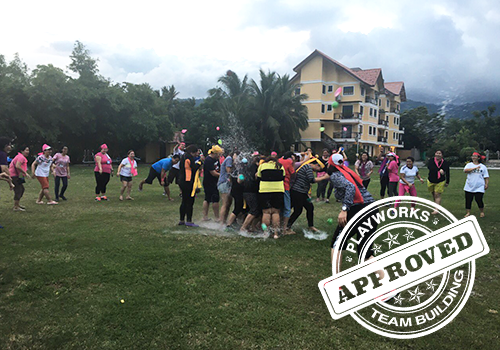 Located along the shore of Taal Lake, Club Balai Isabel has long been a popular spot for company outings and weddings.  It features various villa-style accommodations and function rooms, as well as two swimming pools and recreational facilities like pedicab bikes, billiards, darts, volleyball, basketball, and an obstacle course, all of which Playworks has incorporated into our team building there.
Facilities: 

Accommodations: 

Food: 

---
Canyon Cove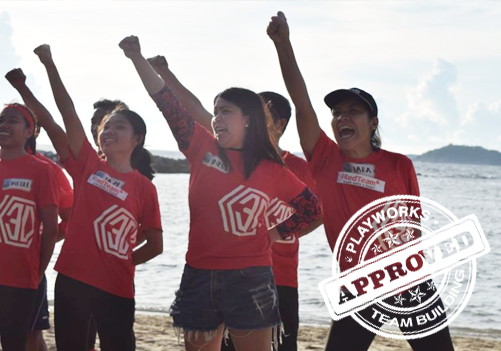 Located along the west coast of Nasugbu, Canyon Cove is another nice place for large corporate groups with planned programs.  It features a wide beach front, swimming pools, hotel-style accommodations and separate building with ballroom-style function rooms, allowing for a wide range of indoor team building activities.  Interesting fact, Canyon Cove's food is handled by Max's of fried chicken fame!
Facilities: 

Accommodations: 

Food: 

---
Chateau Royale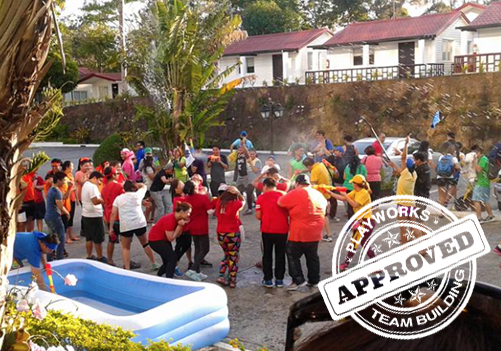 Located in Nasugbu, Chateau Royale is a country club-style resort featuring many recreational facilities that make it a good spot for team building.  Accommodations range form villa-type to cottages, depending on the needs of the group.  It also has an obstacle course, football field, a very large swimming pool, and a manmade rock-climbing cliff.  Playworks' team buildings make use of these facilities and the wide open spaces of this resort.
Facilities: 

Accommodations: 

Food: 

---
Acuatico & Acuaverde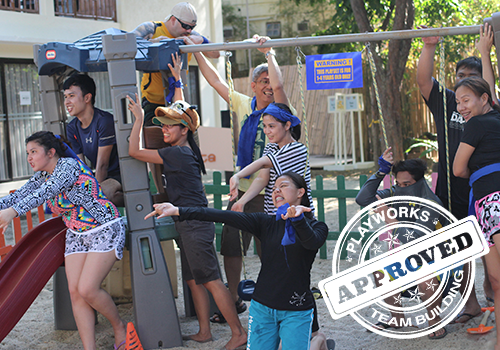 This pair of sister resorts are located right next to each other in Laiya and is quite close to La Luz Beach Resort.
Acuatico is considered the more high-end resort with a beautiful pool and swim up bar, function room, buffet dining area, and villa-style accommodations.
Acuaverde is more rustic but as a large open air function area, cabanas, and various recreational facilities.  Very large tamarind trees line the beach for some good shade during Playwork's outdoor team building there.
Facilities: 

Accommodations: 

Food: 

---
Eagle Point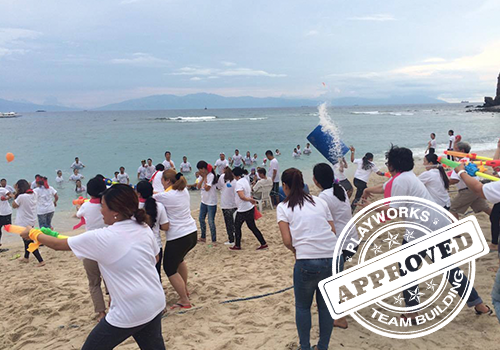 Located in Anilao, an area well-known for its scuba diving spots, Eagle Point is a diving resort situated on a cliffside overlooking the sea.  Accommodations are hotel-style.  There's no beachfront per se, but there are boats that take you to nearby Sepoc Beach Center on Maricaban Island, where company outing and team building activities can take place.  For past team buildings, Playworks has designed a hunt around the island which has a wide range of interesting natural features.
Facilities: 

Accommodations: 

Food: 

---
Estrellas de Mendoza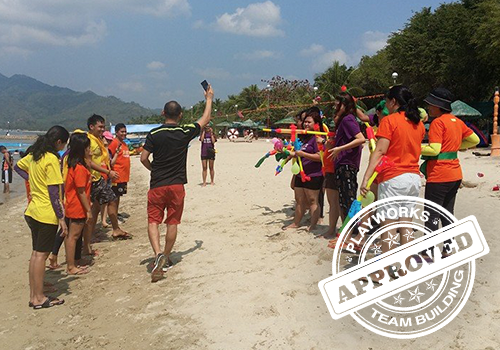 Another resort located in Laiya, Estrellas de Mendoza features a large central pool flanked by villas, though most accommodations are hotel-style rooms in the central building, complete with a glass elevator offering a great view of the pool and beach!
Facilities: 

Accommodations: 

Food: 

---
Canyon Woods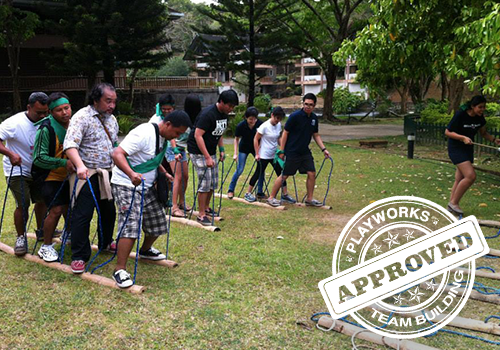 This country club-style resort is located in Laurel, Batangas.  It features condo-style accommodations and boasts many sports and recreational facilities and various function rooms that make it a good place for team building, all in a highland forest environment.  For this particular venue, Playworks has designed the Canyon Run, an epic race including activities around the club house and basketball court, a forest trek, and a tram ride up the hill before reaching the finish line!
Facilities: 

Accommodations: 

Food: 

---
Punta Fuego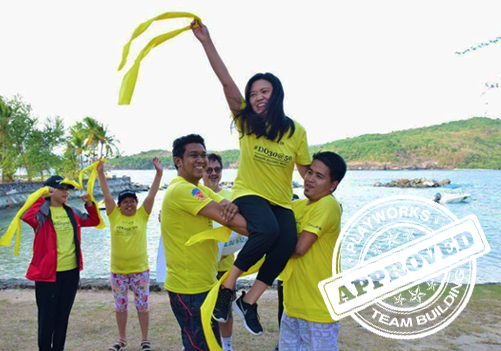 This exclusive members-only resort, located in Nasugbu, is actually divided into two areas, named Peninsula and Terrazas.  Peninsula is like a subdivision with a clubhouse featuring an infinity pool, multiple function rooms, and a central dining area which serves buffet meals.  Terrazas, on the other hand, is also like a subdivision but its recreational area has a wide beachfront, large pool, and cabanas - making it a better choice for team buildings Playworks has done there.
Facilities: 

Accommodations: 

Food: 

---
Hamilo Coast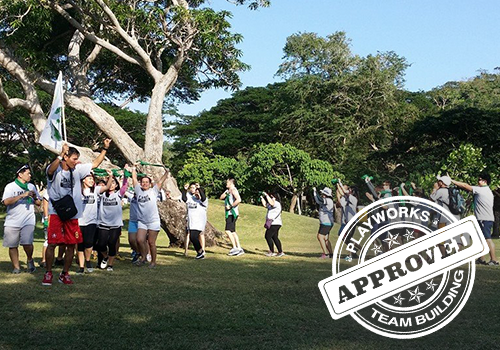 This large residential and recreational community is located in Nasugbu.  It features accommodations at the Pico Sands Hotel and various sports and recreational facilities in the members-only Pico de Loro Beach and Country Club.
Facilities: 

Accommodations: 

Food: