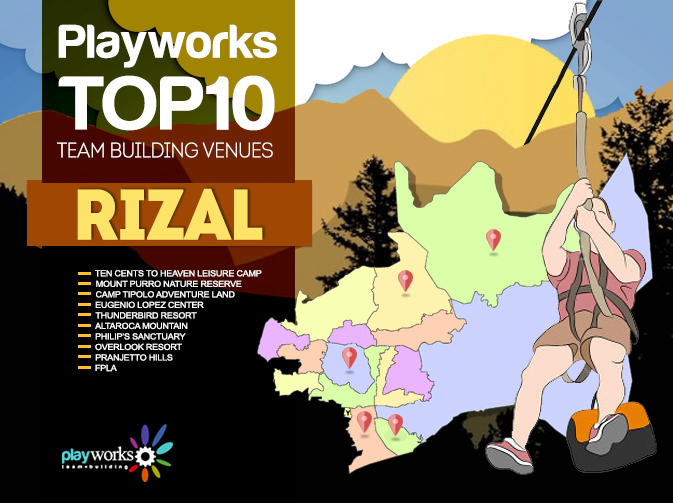 PLAYWORKS' APPROVED TEAM BUILDING VENUES IN rizal!
Just like Laguna, Rizal is one of the go-to provinces for short out-of-town trips for both families and companies because it's also close to Metro Manila and its hilly and cool environment is similar to Tagaytay. This makes it a popular choice for company off-site training and team building events, especially for offices located in the north or east of the Metro. Here is our list of the top 10 venues for team building in this province:
Thunderbird resort rizal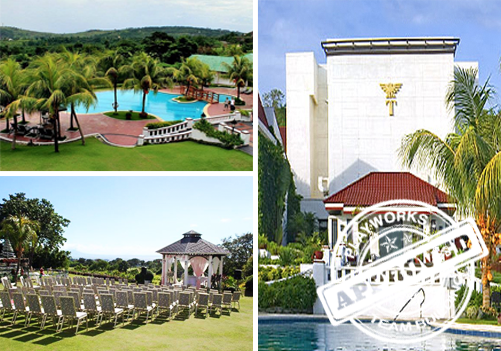 This four-star luxury hotel, casino, and resort is located in the municipality of Binangonan. Perched along the Sierra Madre, the longest mountain range in the Philippines, it boasts scenic views of Laguna de Bay and the Manila skyline. Its recreational facilities include open-air paintball grounds, an archery range, a bike trail, and swimming pool.  Expect top-notch service from this resort, as it is under the same management that has made a name for Thunderbird Resort in La Union.  Of course, don't forget it also has a beautifully adorned casino and private video rooms for after team building activities!
Facilities: 

Accommodations:

Food: 

For more information on Team Building in Rizal, please go to:
www.rizalteambuilding.com

(G) 0915-477-7529, (S) 0998-997-7529
---
Philip's sanctuary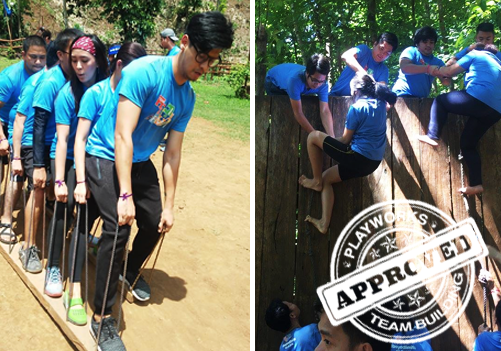 Located in Antipolo, Phillip's Sanctuary is a farm and eco resort and events venue for outdoor adventure, picnics, retreats, and team building. It features a fruit farm, butterfly garden, and rope and obstacle course. Activities include camping, fishing, zipline, bike trail, and kayaking/rafting. 
Facilities: 

Accommodations: 

Food: 

---
tanay adventure camp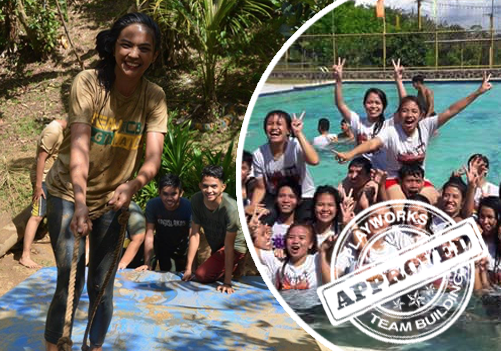 Located in Tanay, as the name implies, Tanay Adventure Camp is suited for family trips, company team building activities, youth camps, school excursions, and religious retreats. Outdoor activities include rappelling, paragliding, wall climbing, high ropes, zipline, and paintball.
Facilities: 

Accommodations: 

Food: 

---
first pacific leadership academy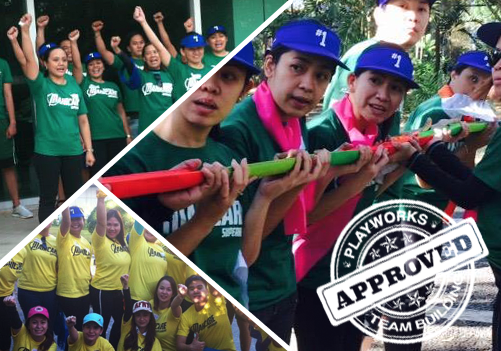 Located in Antipolo, FPLA is both a corporate university and a venue offering facilities and function rooms for meetings and events. It features a facility specifically designed for team building with both low and high courses and paintball.
Facilities: 

Accommodations: 

Food: 

---
eugenio lopez center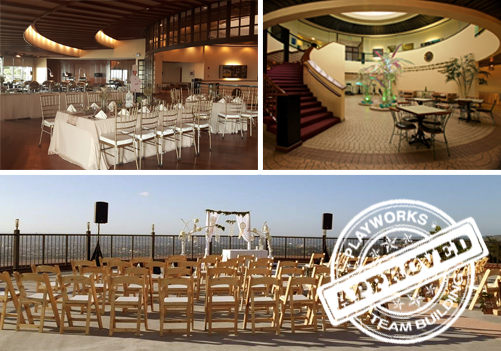 Located in Antipolo, this learning center offers a fitting venue for seminars, corporate events, and meetings set in a relaxing and stress-free environment. Aside from its well-equipped lecture and conference rooms and private theater, there are outdoor activity areas such as an obstacle course, paintball zone, and various sports facilities.
Facilities: 

Accommodations: 

Food: 

---
pranjetto hills resort and conference center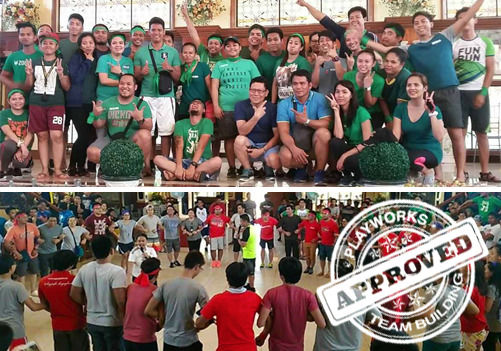 Pranjetto Hills is a mountain resort and conference center designed for family and group outings as well as corporate team buildings. Outdoor recreational facilities include ziplines, paintball battleground, basketball court, obstacle course, wall climbing, and swimming pool.
Facilities: 

Accommodations: 

Food: 

---
camp tipolo adventure land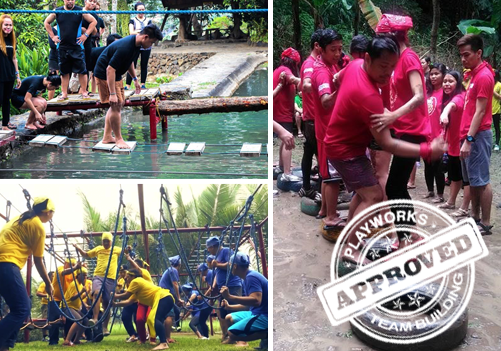 Located in Antipolo overlooking Laguna de Bay, Camp Tipolo is situated within Loreland Farm Resort, a haven for leisure and adventure seekers. Outdoor facilities include two low ropes courses, lagoon, mud crawl, and mud slide. 
Facilities: 

Accommodations: 

Food: 

---
mount purro nature reserve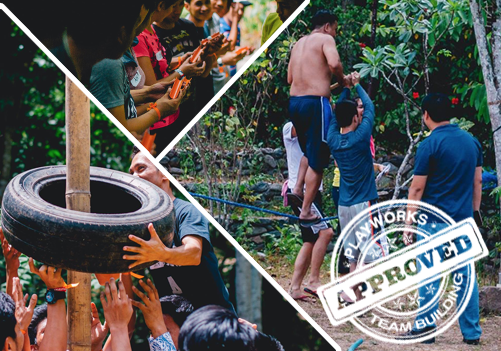 Tucked away in the foothills of the Sierra Madre Mountain Range in Antipolo, this forest sanctuary is a place that families, friends, and organizations can visit to come face-to-face with nature and the great outdoors. Recreational facilities include a mini-zipline, "obstaclair" (obstacle course in the air), catwalk, hiking trail, infinity pool, and open activity field.
Facilities: 

Accommodations: 

Food: 

---
10 cents to heaven leisure camp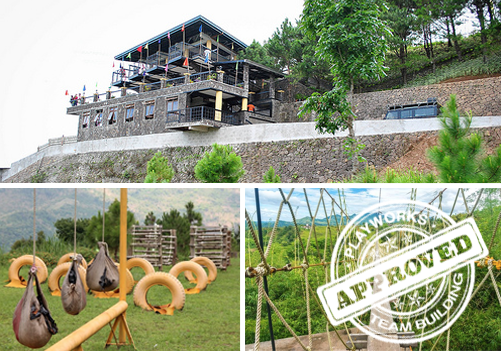 Located on top of a mountain in Tanay, this camp offers a great view of the Sierra Madre mountain range and Laguna de Bay. It's a popular destination for group team building, company outings, seminars, and special events. Outdoor recreational facilities include zipline, rappelling, wall climbing, rope course, shooting range, and hanging bridge.
Facilities: 

Accommodations: 

Food: 

---
altaroca mountain resort and events place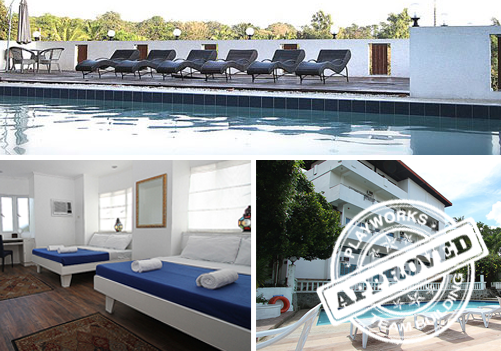 Located in the breezy hills of Antipolo, this resort features white-washed Mediterranean-inspired architecture. Recreational facilities include swimming pools, a tree house, and a game room with billiards and darts
facilities: 

Accommodations: 

Food: