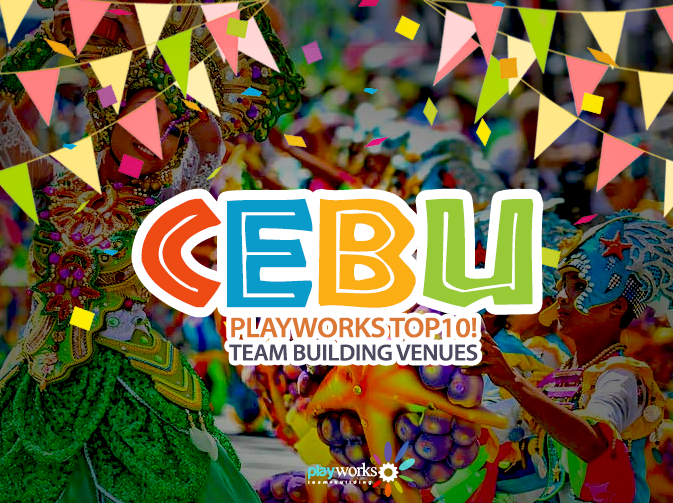 TOP 10 Team Building Venues in Cebu
For Metro Manila-based companies with flexible budgets and a desire to look farther afield than the usual, Cebu is a promising choice. In terms of convenience, it is actually sometimes quicker to get from your office to a beach in Mactan than it is to get to a beach in Batangas!
With its conveniently located beaches and growing cosmopolitan cities, this province offers a lot if you're looking for a great place for an offsite event for your organization.
Cebu is becoming Manila's new favorite for companies who would like to conduct a unified Team Building for their VisMin operations and more and more Multinational companies choose Cebu as a destination for their Company event because of the Culture, the Beach, the food and the Nightlife.
To help you out, here are our choices for the best team building venues in Cebu:
BE RESORT MACTAN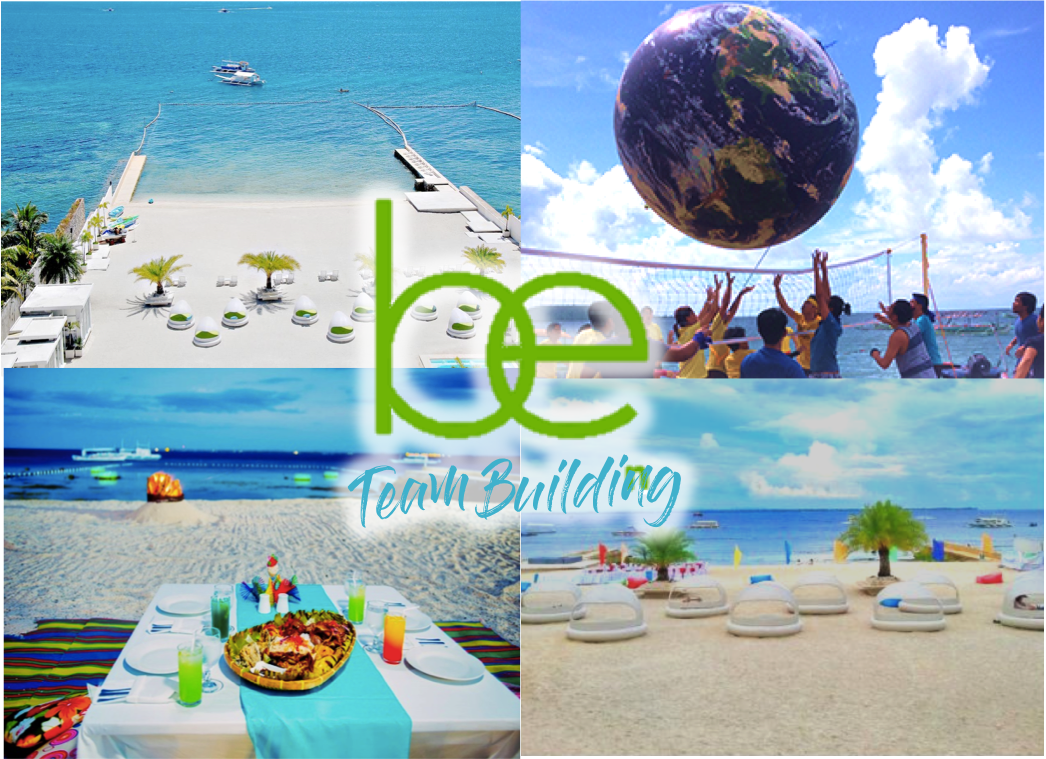 BE Resort is a chic, cool, classy hotel with its own private white sand beach on Mactan Island. As a newly reopened boutique beach resort for corporates, BE Resort has the right amenities to suit most companies' needs (strategic planning, corporate trainings, sales incentive, etc).  In partnership with  Playworks, a leading team building company in the Philippines, they offer a unique team building experience aimed to develop Cebu's growing need for Workforce Development and Training.
BE Resort checks off everything you need for a great team building:
1. Location is about 20 minutes from the New Mactan-Cebu International airport
2. Culture is at its doorsteps; the Lapu-Lapu shrine and all the pasalubongs you need are a shuttle away.
3. Restaurants lined up offering SUTOKIL (A Cebu must-try!) Three different methods of cooking any of the fresh catches of the day.)
4. A Private Beach for your team! 
Facilities: 

Accommodations: 

Food: 

For more information on team building in BE Resort Mactan, please call or text:
(G) 0906-243-0223    (G) 0906-243-0224    (S) 0969-341-1864 
---
SHANGRI-LA'S MACTAN RESORT & SPA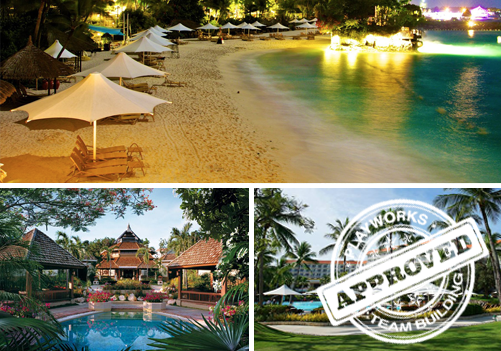 This huge 5-star hotel and garden resort is located on the island of Mactan and offers a full-featured vacation experience for the whole family. Recreational facilities include two swimming pools, a waterslide, diving, snorkeling, kayaking, jet skiing, wind surfing, and other water sports.
Facilities: 

Accommodations: 

Food: 

---
CRIMSON RESORT AND SPA MACTAN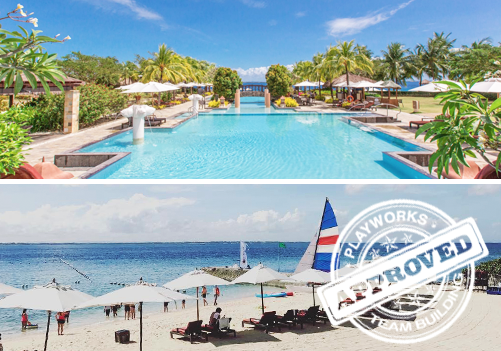 Located on Mactan island, this premiere resort features a swimming pool, spa, and a private beach. Recreational activities include beach volleyball, kayaking, snorkeling, parasailing, and various tow rides.    
Facilities: 

Accommodations: 

Food: 

---
MÖVENPICK HOTEL MACTAN ISLAND CEBU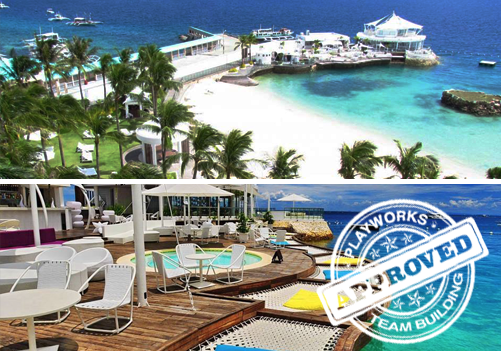 Located only six kilometers from Mactan Cebu International Airport, this 5-star Mediterranean-inspired beachfront hotel offers contemporary style with a fun and fresh appeal for both leisure and business travelers. Recreational activities include swimming pool, parasailing, jet skiing, and various indoor games.
Facilities: 

Accommodations: 

Food: 

---
waterfront cebu city hotel & casino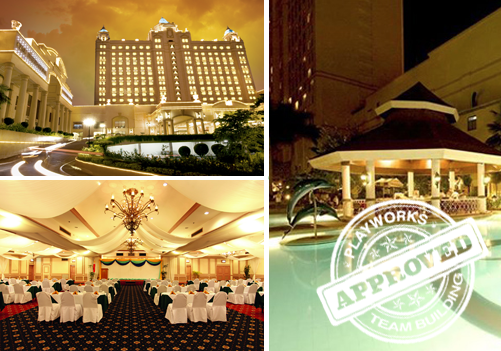 Located in Cebu City and right across the Mactan-Cebu International Airport, this location is great for companies looking for easy air travel access.  This venue does not have beach access, however, and is better primarily for indoor activities, with multiple function rooms and an outdoor pool. It also features a 24-hour gym and casino.
Facilities: 

Accommodations: 

Food: 

---
alegre beach resort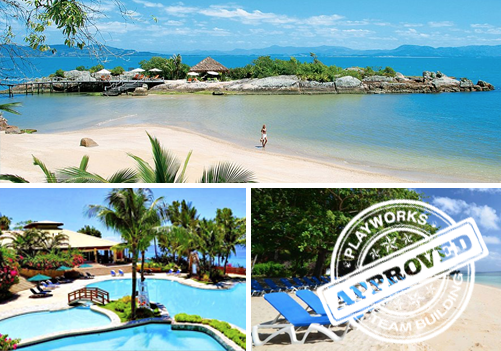 This luxury resort is located in Sogod town, about 2 hours' drive from Cebu City. The resort is set on natural limestone cliffs overlooking the ocean, and is known for its white sand beach, quaintness and scenery. If you're looking for a nice, secluded place away from the crowds in Mactan, this is a good option. Recreational facilities include various water sports, sports facilities for basketball, volleyball, badminton, and tennis, and game room with billiards, darts, table tennis, and tabletop games.
Facilities: 

Accommodations: 

Food: 

---
Best Western Sand Bar Resort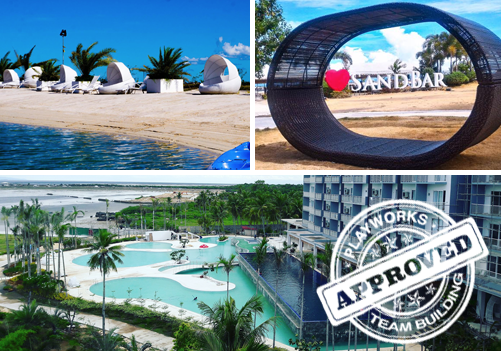 Situated on the island of Cordova, this immense family-friendly garden resort features a breathtaking panoramic view of the sea. Recreational facilities include kayaking, volleyball, table tennis, and fish feeding.
Facilities: 

Accommodations: 

Food: 

---
Bluewater maribago beach resort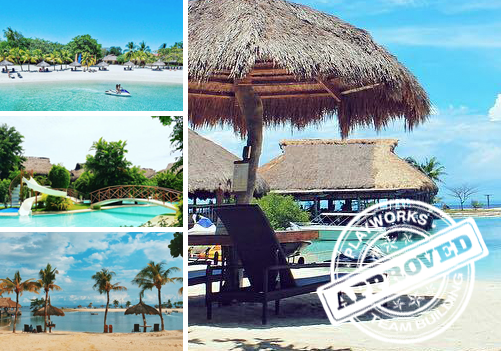 Located in Lapu-Lapu City, this resort features a complete aqua sports facility that meets your requirements for a total tropical experience – from jet-skiing, scuba-diving, snorkeling and island-hopping. Other recreational activities include beach volleyball, a life-sized chessboard, badminton, billiards, and foosball.    
Facilities: 

Accommodations: 

Food: 

---
Costabella Tropical Beach Hotel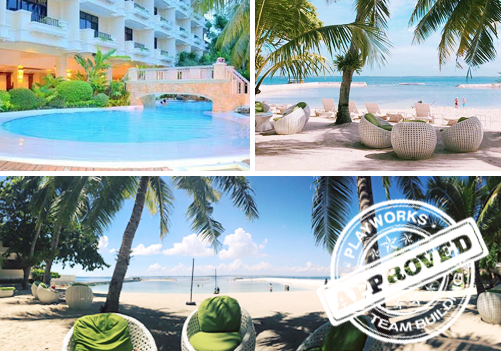 Tucked away in the charming island of Mactan is this little getaway offering a private white-sand beach with beautiful ocean views. Recreational activities include various aqua sports like diving, snorkeling, parasailing, and kayaking, beach volleyball, billiards, darts, and table tennis.
Facilities: 

Accommodations: 

Food: 

---
Mountain View Nature Park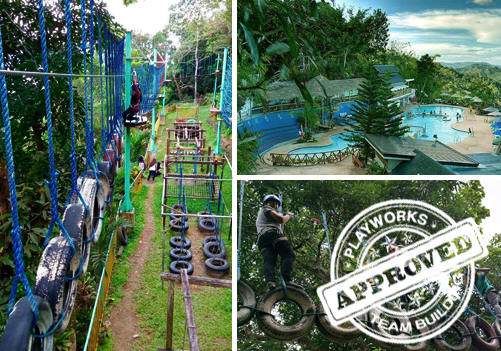 Located near Cebu City, this quiet, secluded venue offers multiple function halls, a full-service restaurant, and a ropes course.
Facilities: 

Accommodations: 

Food: 

---
Plantation Bay Resort and Spa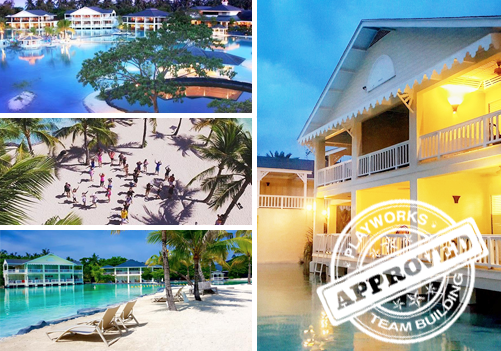 Set in 11 hectares of secluded grounds only one hour away from Cebu City, Plantation Bay features one of the largest privately-owned waterways in the world, with the colonial plantation-inspired architecture. Recreational activities include various aqua rides, multiple pools and water slides, beach volleyball, archery, wall climbing, and tennis.
Facilities: 

Accommodations: 

Food: