Are you looking for new ways to spice up your meetings and to better engage the participants in your group discussions? Are the tired old methods of brainstorming and consensus building not getting the results you need? Are you looking for a new way for teammates to express themselves as individuals and to collaborate in creating solutions and ideas?
Playworks offers what you need using the LEGO
®
Serious Play
®
Method.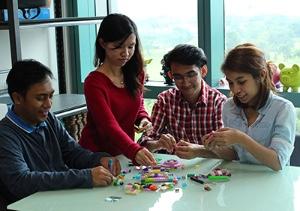 LEGO® Serious Play® is a methodology developed by the LEGO Group that leverages the use of LEGO bricks as tools in a creative process designed to unlock innovative thinking and new ways of communication among participants in order to achieve a shared outcome.