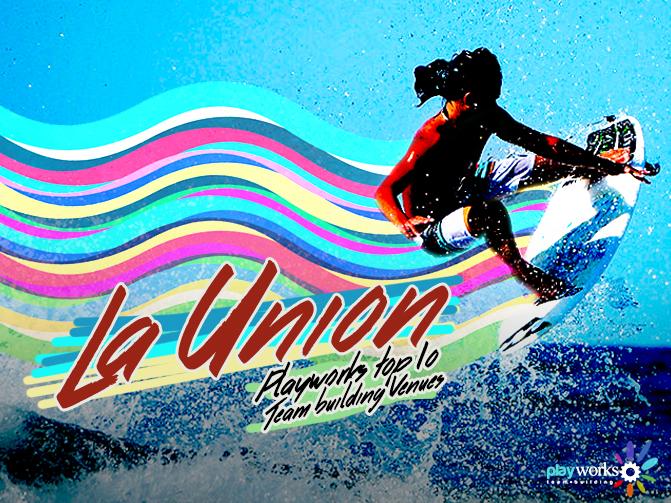 top 10 team building venues in La Union
Fast becoming known as one of the surfing capitals of the Philippines, La Union is a great choice for beach locations in northern Luzon. For companies looking to go north of Metro Manila but want to go beyond Subic and Bataan, this scenic province on the shores of the West Philippine Sea offers wide beaches and great waves for many fun team building opportunities.
  
KAHUNA BEACH RESORT & SPA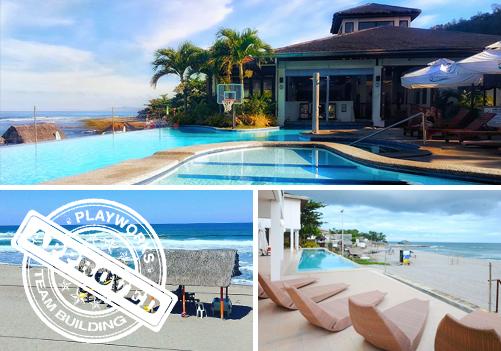 Situated in the heart of one of the top surf destinations in the Philippines, San Juan, La Union, Kahuna is a premier resort in the area, featuring Balinese-inspired cottages, villas, and rest houses that peer out directly into the beach, its accommodations, bar, restaurant, and three swimming pools all face an ocean cove and wide sandy beach. The gently sloping beach allows for the perfect breaking waves for surfers of all abilities, and a surfing clinic is available for those who want to learn.
Facilities: 

Accommodations: 

Food: 

For more information on team building in La Union, please call:
(G) 0906-243-0223    (G) 0906-243-0224    (S) 0969-341-1864 
---
Thunderbird Resort– Poro Point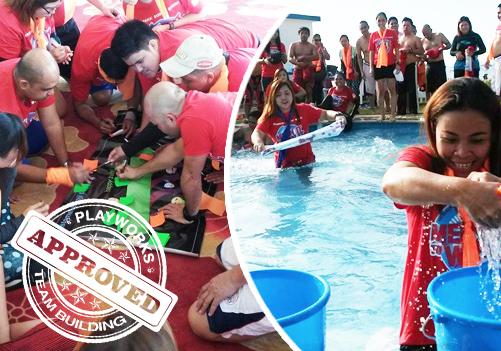 Located in San Fernando, nestled on a cliff overlooking the West Philippine Sea, Thunderbird is a 65-hectare Mediterranean-inspired dream destination, white-washed buildings with cobait blue domes and accents blend with the azure waters and skies. Featuring an infinity pool, 9-hole golf course, and spa. This resort is a great choice for both recreation and relaxation.
Facilities: 

Accommodations: 

Food: 

---
Awesome Hotel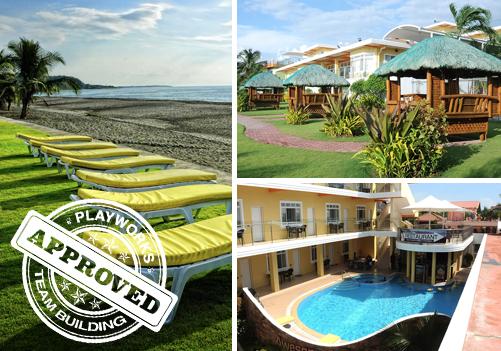 Located in San Juan, Awesome Hotel has established a reputation for redefining luxury and excellence among hotels in La Union. It features a large outdoor pool that also includes a kids' pool and splash bar. The resort also offers an extensive array of aqua activities, including jet ski, banana boat and kayaks, as well as scuba diving and surfing.
Facilities: 

Accommodations: 

Food:  

---
China sea beach resort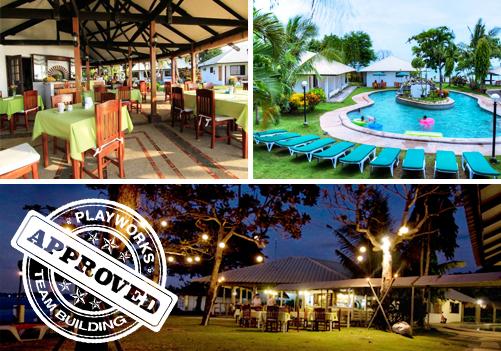 Located in Bauang, this is a preferred destination of many tourists, local and foreign, because of its clean rooms, good food and friendly staff. Aside from the swimming pool, the resort offers kayaking facilities, island-hopping boat trips, and snorkeling by the white beach in Poro Point. Surfing enthusiast can enjoy San Juan's beginner to intermediate waves, with instructors and board rentals available upon request. 
Facilities: 

Accommodations: 

Food: 

---
isla bonita beach resort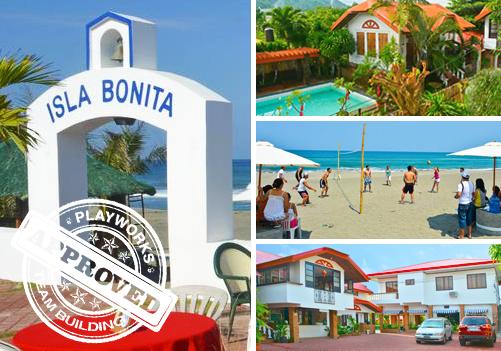 Located in San Juan, in its own well established tropical courtyard gardens, this secluded resort is modelled on Spanish/Vigan style architecture. Recreational amenities include beach volleyball, surfing, scuba diving, and billiards.
Facilities: 

Accommodations: 

Food: 

---
Aureo Hotel & Resort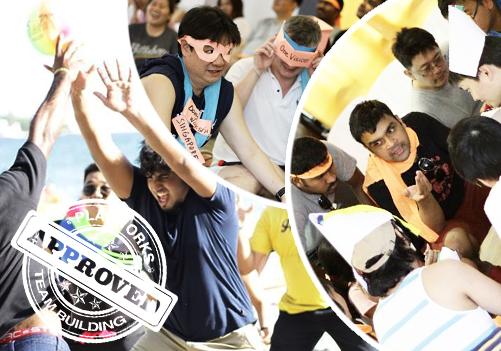 Located in San Fernando, Aureo Resort is a sanctuary to relax and unwind. From serene beaches to infinity pools, the resort provides a tranquil environment to recuperate after a tiresome work week. This makes the resort a good place for small groups looking for some quiet time for seminars, retreat-type workshops, or more intimate team building events.
Facilities: 

Accommodations: 

Food: 

---
san luis del mar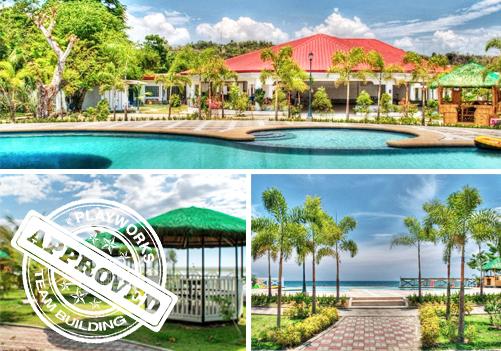 Located in Bauang, this resort was formerly called Saint Louis College Development Center and it occupies a 1.1 hectare beachfront property. Designed to provide a venue for human formation and development activities and training for HRM/Tourism students, it features classrooms and laboratories with top-of-the-line equipment as well as other facilities such as a pavilion and function hall, a canteen, picnic kiosks, and swimming pool.
Facilities: 

Accommodations: 

Food: 

---
Lafaayette Luxury Suites Resort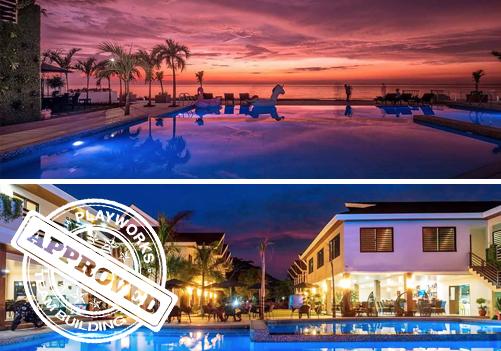 This is a modern-Balinese designed resort located along the soft sands and short waves of the coastline of Bauang. it boasts array of modern facilities and high-end amenities. The resort is perfect for company retreats, team buildings, educational field trips, and the like.
Facilities: 

Accommodations: 

Food: 

---
Sunset Bay Beach Resort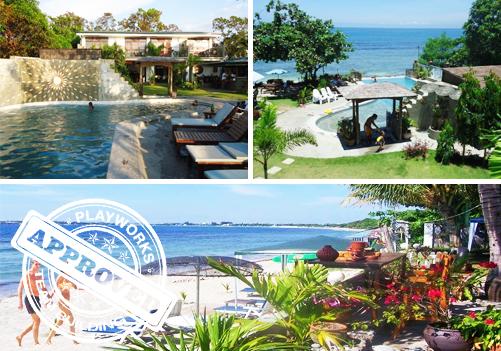 This resort is situated close to San Fernando City and Bauang and overlooks the West Philippines Sea. The resort is within easy reach of San Juan's surfing beach. With enough space to host events of up to 40 persons, this resort is good choice for smaller groups.
Facilites: 

Accommodations: 

Food: 

---
La Playa Ursula Beachfront Resort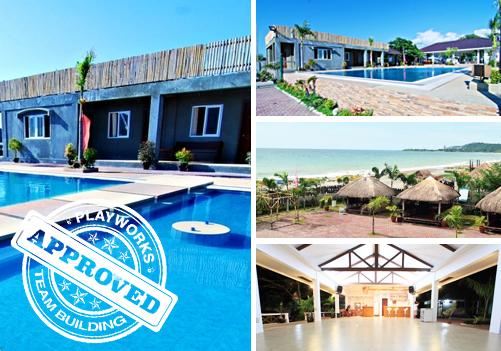 Located in Poblacion West Bacnotan, this is a cozy resort that's good for smaller group events. Recreational facilities include swimming pool, surfing, volleyball, billiards, and darts.
Facilities: 

Accommodations: 

Food: