TOP 10 TEAM BUILDING VENUES IN bulacan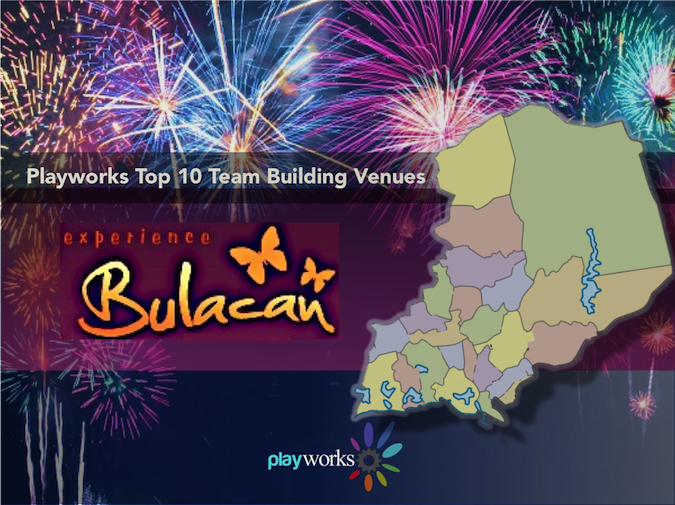 For Metro Manila-based companies looking to do a quick team building (either day tour or overnight), Playworks suggests to take a look at the many different, unique resorts around Bulacan.  If you're coming from the South, access to these resorts has become even easier with the opening of Skyway 3 in 2020.  The Bulucan International Airport, once it opens, will also make it easier for any team members coming from abroad.
Just 30 minutes to 1.5 hour drive from the EDSA-Balintawak NLEX entrance, these Bulacan venues will definitely get the job done.  Many of these resorts offer very affordable team building packages through Playworks, which include: accommodations, meals, function area, pool access, and team building program & facilitators.
To make your search for team building-worthy resorts around Bulacan even easier, here is Playworks' choices for the Best Team Building Venues in Bulacan:
falcon crest resort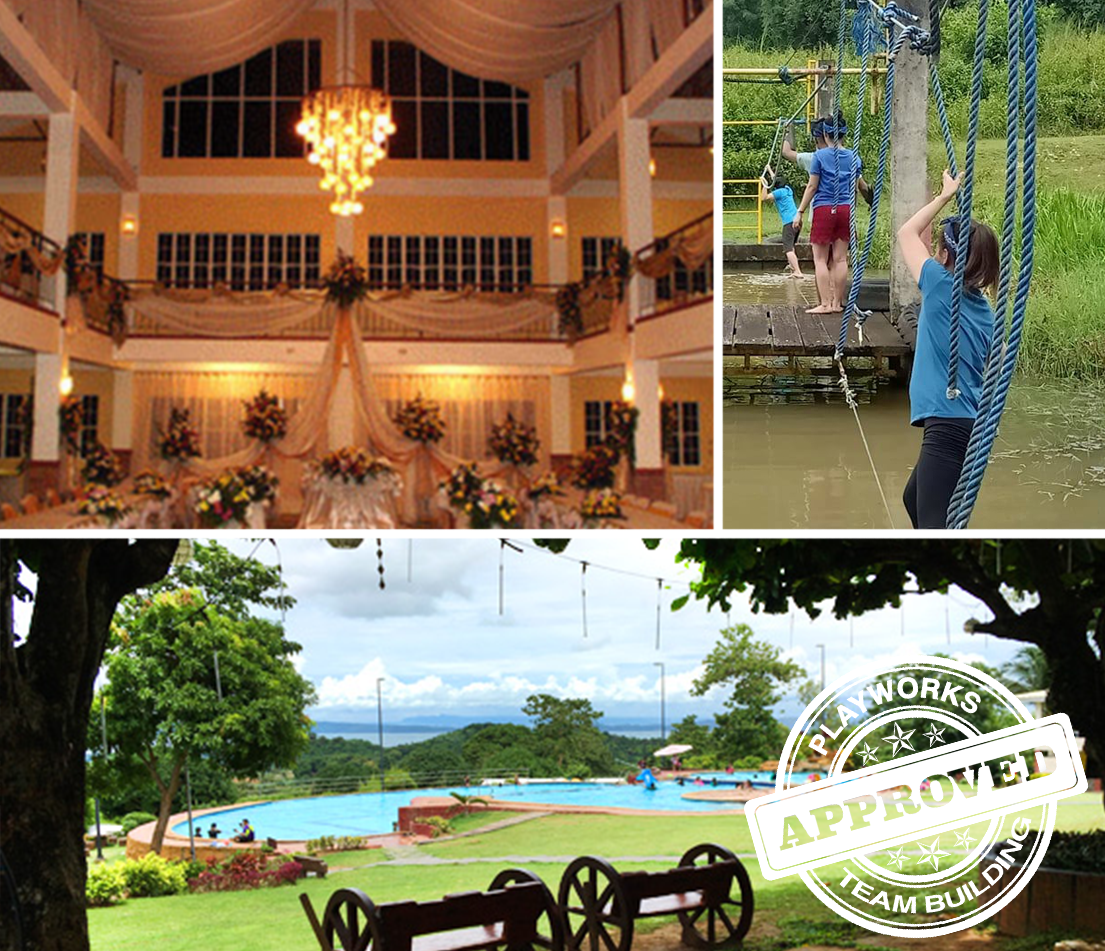 Since 1998, Falcon Crest's 9.5 hectare resort in Bulacan is well known for their team building amenities, including: a full on high ropes course, a zip-line (appropriately named 'Slide for Life'), a wall-climbing/rappelling wall, an outdoor maze, and a full-length swimming pool.
Combined with Playworks' team building program of outdoor and indoor activities, your team will experience a full day's worth of physically+mentally challenging activities that is sure to get your team's juices flowing again once you get back to the office.  
As for accommodations, the Falcon Crest can now house over 250 pax with its Lawin Rooms, Maya Retreat House, and Maya Hall.  For the more adventurous (and for company's team building on a budget), the resort also has tents (good for 12 pax per tent) with camping activities.  For day tours, Falcon Crest can easily accommodate groups as small as 30 up to groups as large as 500. Its beautiful Falcon Hall, which is nice enough for weddings, is also a great function area for team buildings.
The resort offers a catered food menu of traditional faire, which we recommend you ask to be set up as a Boodle Fight (kamayan as a group).
Facilities: 

Accommodations: 

Food: 

Falcon Crest is a Venue Partner of Playworks. To avail of our Special Team Building Partnership Rate, call the numbers below:
(G) 0906-243-0223    (G) 0906-243-0224    (S) 0969-341-1864 
---
san rafael river adventure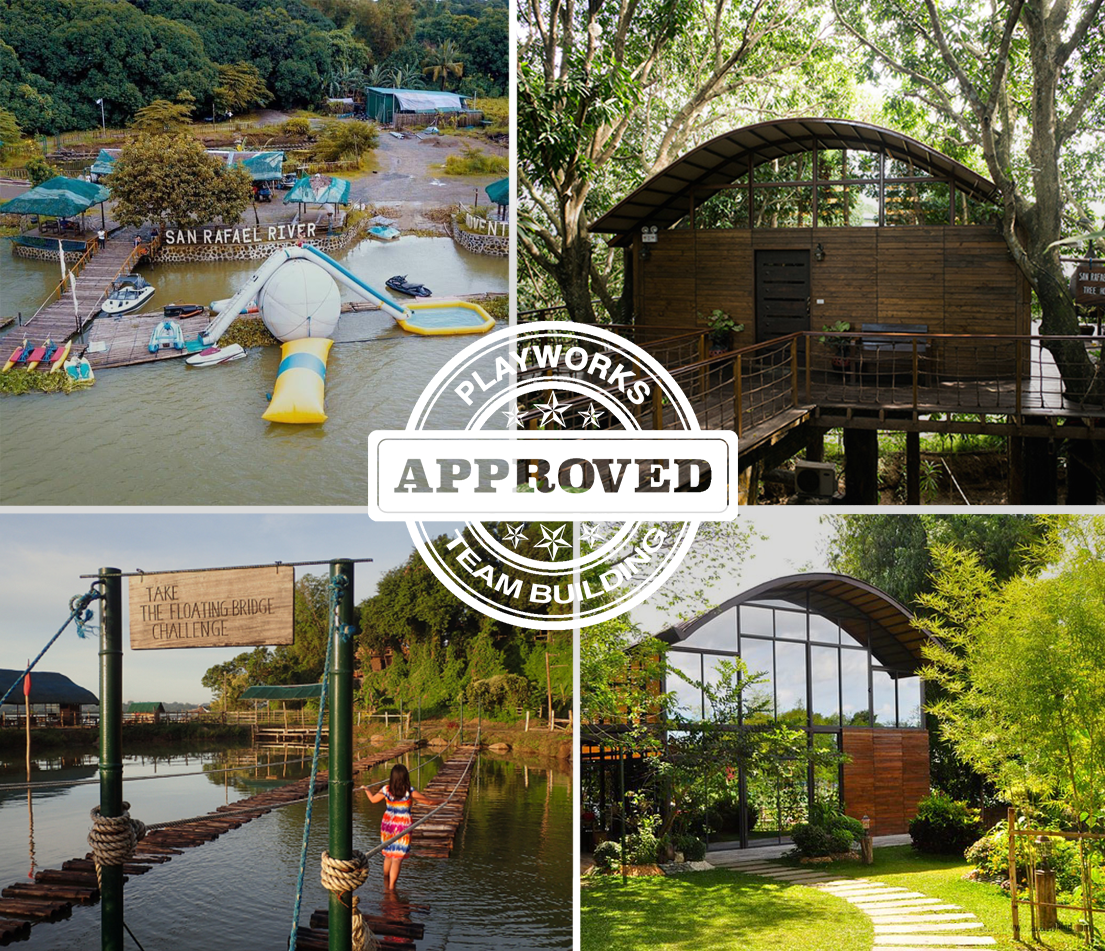 Situated next to the Angat River, San Rafael River Adventure's nature-inspired facilities and activities is a nice, short break for your team from the stress of city/office life.  
Taking full advantage of the river, your team can choose from a variety of water activities:  kayak, paddle board, river swing, jet-ski, water bike, wake boarding, banana boat, pedal boat, inflatable slides, and fishing.  If you want to enjoy the river at a more relaxed pace, there is even a River Cruise with full grilled buffet and karaoke.  If you are more of a land-lover, the resort offers ATVs, horseback riding, and bicycles to explore the vast area.
For groups looking for an overnight adventure, San Rafael offers cute glass tree houses and cabins, glamping set up, as well as kubo cottages for the budget-conscious. Edita's Haven, the resort's restaurant / bar / events place, is a perfect set up for your indoor team building activities.
Facilities: 

Accommodations: 

Food: 

To avail of Special Team Building Rate, call the numbers below:
(G) 0906-243-0223    (G) 0906-243-0224    (S) 0969-341-1864 
---
The greenery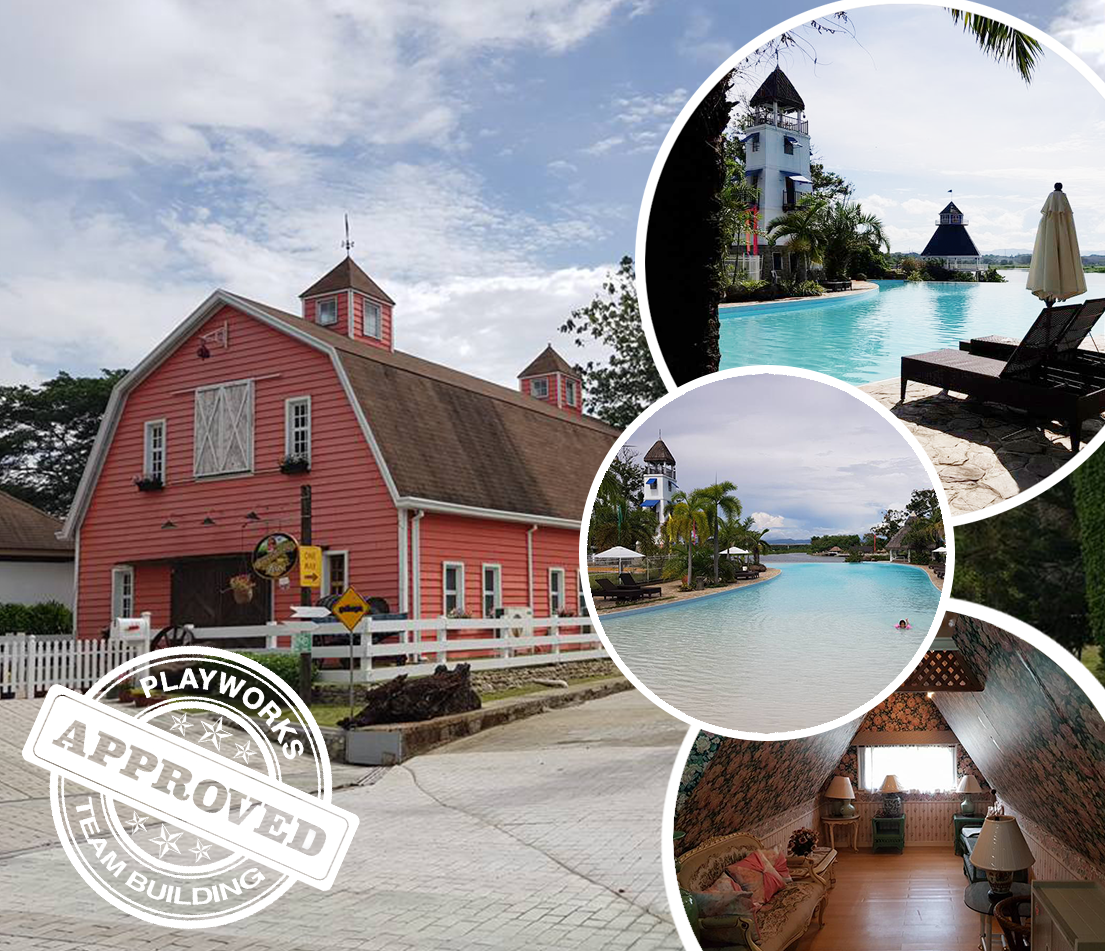 Review coming soon...
To avail of Special Team Building Rate, call the numbers below:
(G) 0906-243-0223    (G) 0906-243-0224    (S) 0969-341-1864 
---
ADDITIONAL TEAM BUILDING RESORTS IN BULACAN TO BE ADDED soon...