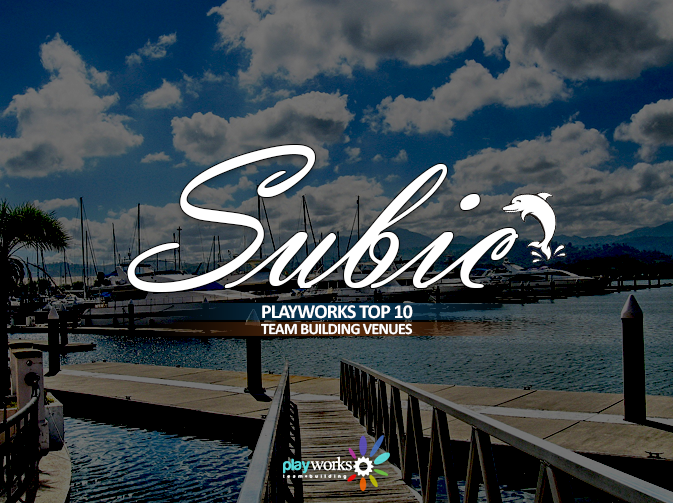 TOP 10 Team Building Venues in SUBIC
Subic is well-known to weekend warriors given its wide array of tourism it has to offer. From scenic sunsets to boardwalk beaches, it's an excellent host for family trips, company outings and team buildings. Not only is this town blessed with beautiful sandy beaches, but it's also rich in Philippine history, making it an interesting place for both locals and foreigners who's looking for a place different from the usual city bustle.

Check out the list of our Top 10 Team Building Venues in this fast-growing town in the North...
camayan beach resort and hotel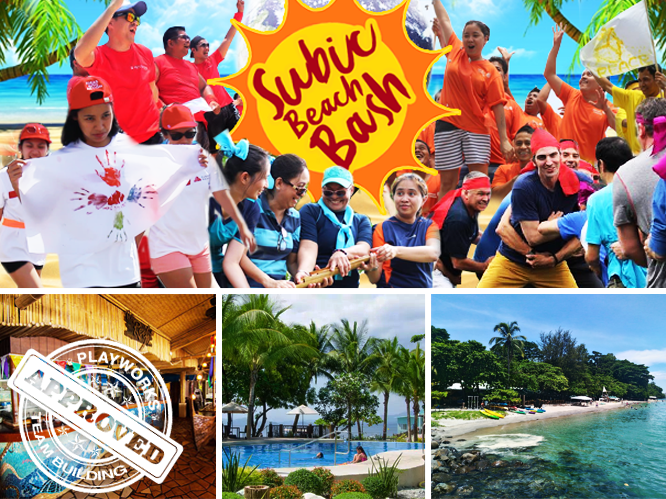 Tucked away from the city swift and hustle, Camayan Beach Resort is situated in the heart of the Subic Freeport Zone, making it the country's premier destination in the North. Surrounded by clear and calm waters and a white sand beach, it's no wonder why this resort is Playworks' number one pick to hold team buildings in Subic. All set with various recreational activities perfect for both indoor and outdoor activities, Camayan Beach Resort takes the team to a whole other type of adventure.
A wide range of activities are also available for your team to enjoy, with the Subic Beach Bash specially customized for Camayan Beach Resort. It will test the teams to push their limits to the next level and practice their sense of teamwork, responsibility, and decisiveness – without truly forgetting the essence of fun and excitement. Camayan Beach Resort is also exclusively partnered with Ocean Adventure, the first open-water marine park in Southeast Asia, where special kinds of activities like the Sea Lion Encounter, Dolphin Experience, and Sea Turtle Conservation are offered to create a different kind of experience for executives and intimate team buildings.
Facilities: 

Accommodations: 

Food: 

For more information on team building in Camayan Beach Resort and Hotel, go to:
(G) 0906-243-0223, (G) 0906-243-0224, (S) 0969-341-1864 
---
Subic bay yachT club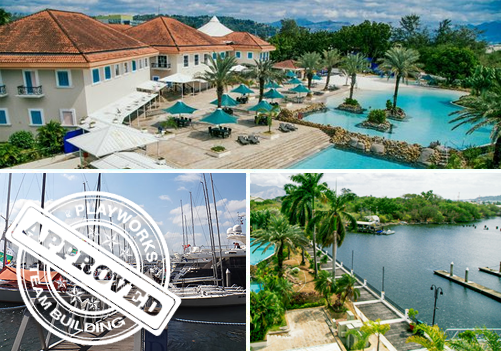 Just a 2-hour drive from the Metro, Subic Bay Yacht Club is a premier luxury resort surrounded by the Zambales Mountain View range and the Subic Bay Freeport Zone. Sunset sailing along the pristine flat waters, a badminton court, bowling alley, and a 2,500sqm swimming pool are some of the facilities found inside the club, where Playworks can make use of these to create an interesting program for your team building.

Facilities: 

Accommodations: 

Food: 

---
grande island resort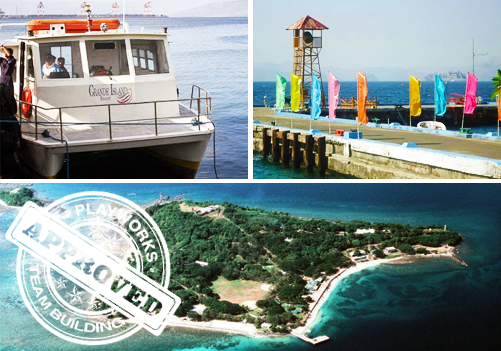 If your team is the type who's always game for an adventure, then Grande Island is the perfect venue for you. The 20-minute cruise is surely worth it once you reach this 44-hectare resort; located in the middle of Subic Bay and complete with recreational facilities like soccer, badminton, and swimming pools. Various activities like island hopping, nature trekking, and water sports like kayaks are also incorporated into Playworks' team building program in this hidden gem of an island.
Facilities: 

Accommodations: 

Food: 

---
white rock beach hotel + waterpark
The 8-hectare park-like property is strategically located in Matain, Subic, just 12 minutes from the Subic Bay Freeport. The full service resort offers a panoramic view of the Subic sunset and scenic mountain ranges, making it a treat for the nature lovers. If your team is composed of aqua-drenaline junkies, numerous water and indoor sports activities such as wave pools, water slides, raging pool, and a grand swimming pool with water basketball are also available for your team to enjoy. White Rock Beach Resort is definitely a crowd favorite given its wide array of features in the area.

Facilities: 

Accommodations: 

Food: 

---
hotel kamana sanctuary resort and spa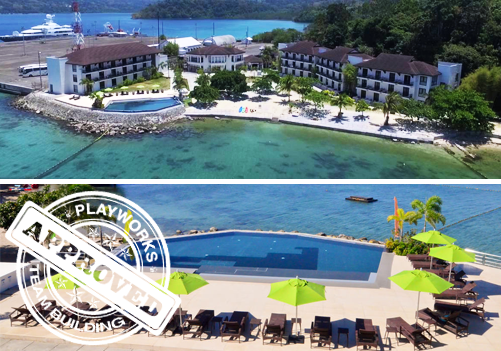 This family-friendly beach resort lies in the west district of the Subic Freeport Zone, between an old-growth forest and the peaceful Bay of Nabasan. Giving you the fantastic view of the mountains, Kamana Beach Resort proudly features their Casitas that are right on the water's edge, giving you your very own private porch while overlooking their 300-meter beach stretch. Facilities include an outdoor pool, playground, beach volleyball & tennis court, and water sports (snorkeling and kayaking) all perfect for various team building activities.

Facilities: 

Accommodations: 

Food: 

---
The lighthouse marina resort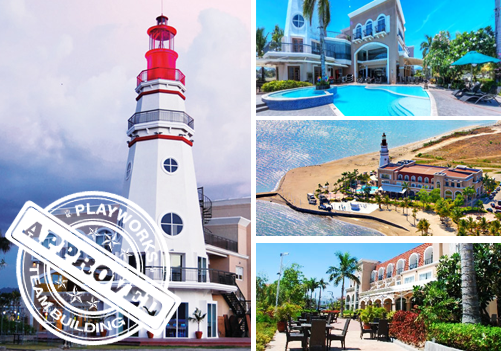 Considered as one of the top resorts in the North, The Lighthouse Marina Resort continues to impress its guests with its elegant but simple Palafox-designed architecture. The 20-meter light tower shines together with the main hotel building, making it easy to find among the hidden but busy Waterfront Road. The area presents a diverse of activities available for your team to enjoy. Ranging from indoor and outdoor sports like badminton and hiking; to water sports like scuba diving and surfing, the Lighthouse Marina Resort surely offers a unique and different kind of team building.

Facilities: 

Accommodations: 

Food: 

---
acea subic bay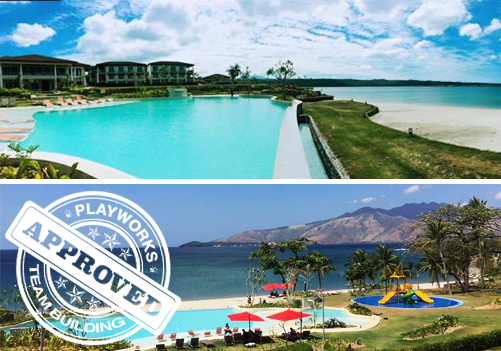 Located in San Bernardo Rd., Subic, ACEA houses a total of 108 well-groomed rooms complete with facilities both for indoor and outdoor activities. Far from the hustle & bustle of the city, your team will surely enjoy the laidback atmosphere of this beachfront resort, geared with sporting facilities and a 2,560sqm swimming pool overlooking the famous Subic Bay. Alongside the amenities is an events building perfect for big corporate social gatherings and annual team buildings.

Facilities: 

Accommodations: 

Food: 

---
club morocco resort and country club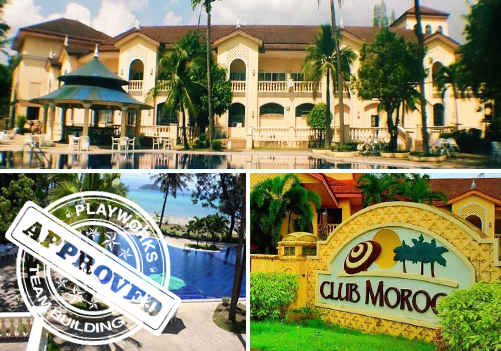 Nestled along the countryside north of Manila, Club Morocco Beach Resort and Country Club transports you to a luxurious style of living without having to go all the way to a foreign land. Among the various facilities found in this Arabic-styled architecture are bowling alley, basketball, beach volleyball court, billiards, large swimming pool, and beachfront accommodations perfect for day tour and multiple night team buildings.

Facilities: 

Accommodations: 

Food: 

---
vista marina hotel and resort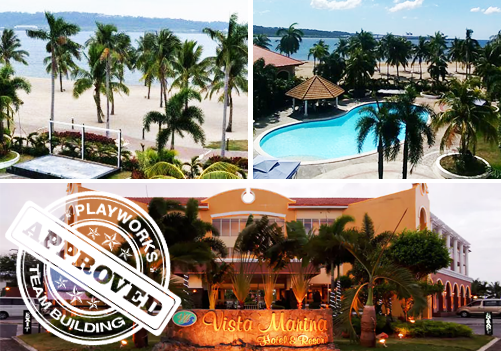 Vista Marina Hotel and Resort boasts its magnificent view of the Subic Bay, with complimenting Mediterranean-styled Cabanas that will surely make the guests stay a memorable one. From the appetizing meals comprising of Asian delicacies at their Marista Restaurant, to the wealth of their facilities available inside the resort (swimming pool, basketball court, water sports facilities, playground, and banquet halls near the pool area), there's no wonder why this first class international hotel is included in the top ten list of venues in Subic.
Facilities: 

Accommodations: 

Food: 

---
subic grand seas resort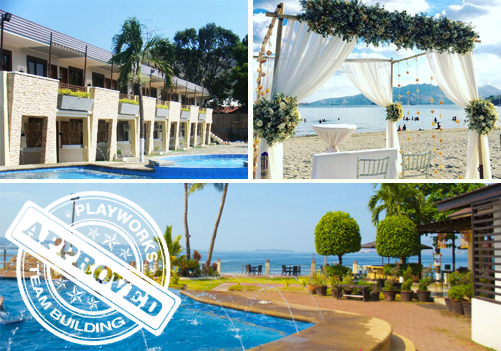 Situated along the quiet shore of Barretto Beach just five minutes from the Subic Freeport Zone, is where Subic Grand Seas Resort is located. The ambiance of this hotel is reflected in their Bali-inspired accommodations, giving a traditional vibe with a mix of modern. To add to the needs and excitement of the team, recreational activities included in their offerings are banana boat, jet ski, sunset cruise, snorkeling, diving, and biking.

Facilities: 

Accommodations: 

Food: